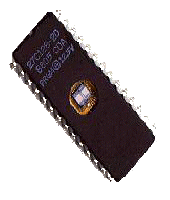 Device Programming Service
---
EPROM - EEPROM - FLASH - GAL - PAL - PLD
Microcontrollers - and more!
Single-piece & Large Orders Welcome
Now programming most DIP, SOIC and PLCC44 devices.
We accept the following data sources:

Master Device
Hex file or Binary Image

On IBM-Compatible floppy
E-mail attachment
FTP Download

Our procedure:

On initial large orders, we program one device (or set) and ship to you for verification.
On approval, we program remaining devices.
PayPal Accepted
We stock small quantities of some common EPROM devices. Customer must supply blanks for non-erasable or other special devices. Contact us for assistance or special arrangements.

Send us your master device or hex or binary file along with blank devices for fastest turnaround.
Please contact us by EMAIL for a quotation. Please include device type, manufacturer and package type. Also, please indicate whether you will be supplying blank devices.
Please do not order from us if you are not the legitimate owner of, or have duplication rights to the information being copied. We reserve the right to refuse service in suspected cases of software piracy.

We will keep an image of your device on file for future orders. Sales tax will be added to Ohio orders, if applicable. Prepaid Cashiers Check, Money Order, or corporate purchase orders accepted.

Send master devices, blanks, or payments to:
Martin/EAL
17284 SR 199
Pemberville, OH 43450

---

---

© 1997 - 2007 Martin/EAL